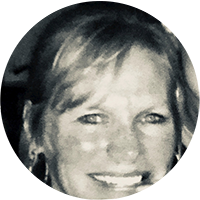 Meg Schutte
Dec 16, 2020
For these small business owners, it's all about the craft — from single origin spirits and artisan chocolates to styling dogs. All three share traits of successful entrepreneurs: passion, enthusiasm and creative thinking, especially where COVID-19 is concerned.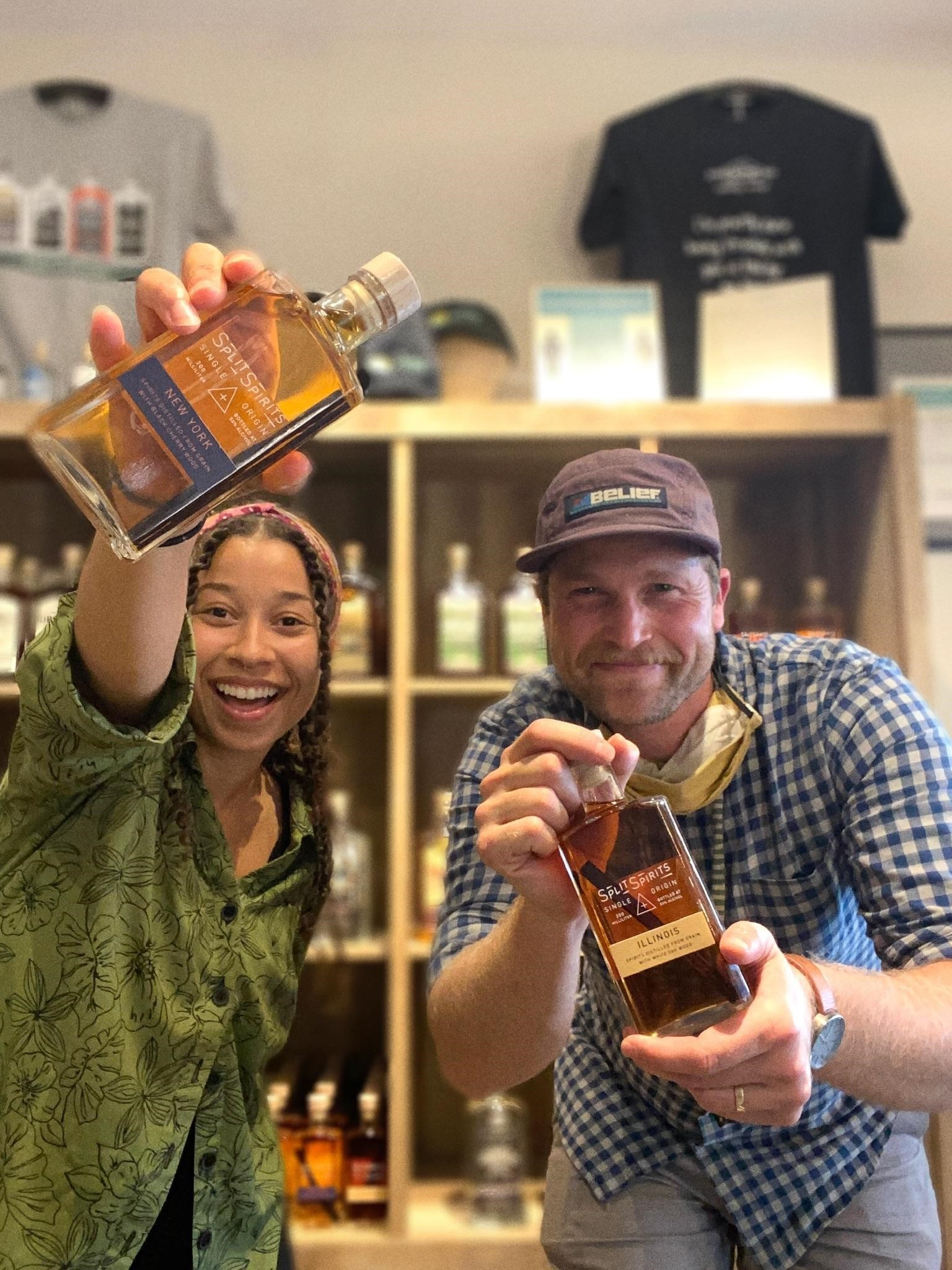 "I love that I haven't had a boring day since I started my business." – Will Drucker, Founder/Chief Wood Splitter, Split Spirits
Sustainability has been the common thread in Will Drucker's career. Growing up in Wilmette, Illinois, his family also had a farm in nearby Hanover that nurtured his love of the environment. It was only natural that he brought this sensibility to making whiskey. Split Spirits goes beyond the barrel to discover delicious and distinct flavors unique to one place. As Will explains, "I felt it was uncharted territory that no one else had explored and I wanted to be the first one."
Starting out, they visited farmers to learn what grains grew best in different parts of the country, making spirits infused with unique and delicious wood grown in the same spot, like Black Cherry and Sugar (or Hard) Maple. To extract the interesting flavors, they put the wood directly in the bottle and let it infuse. "Call us crazy, but we also think that using better ingredients means tastier spirits!"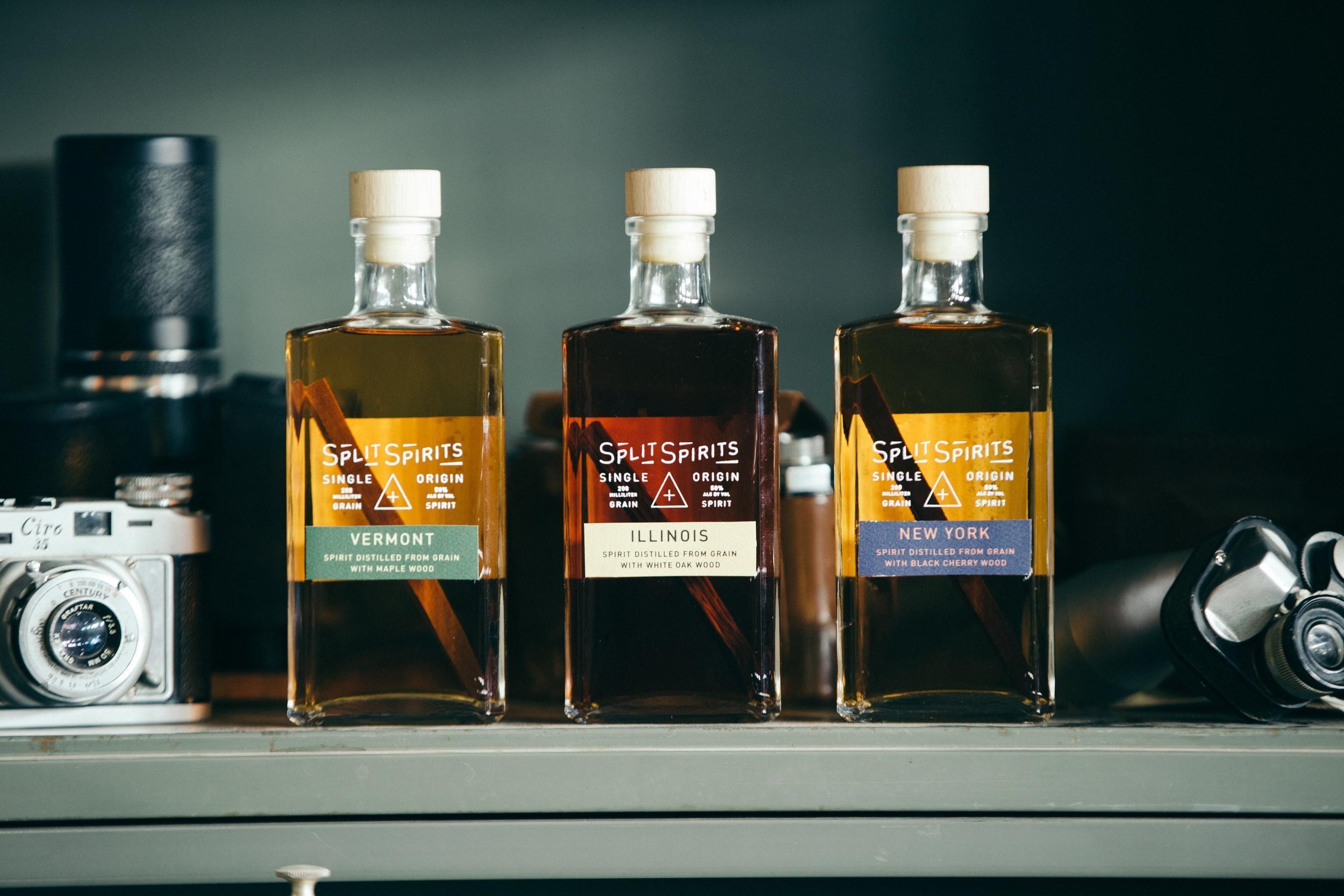 Split Spirits is proud to support the movement towards global reforestation, and plants a tree for every case sold.
Beyond discovering distinctive flavors, Split Spirits is committed to being sustainable and is produced in a solar-power facility equipped with environmentally-friendly features. They source organic and regenerative grains from local farmers, and use 90% less wood than traditional barrel-aged spirits. All these choices help sequester carbon, reduce runoff and protect biodiversity. "Beyond being good for the environment, the spirits also taste great!"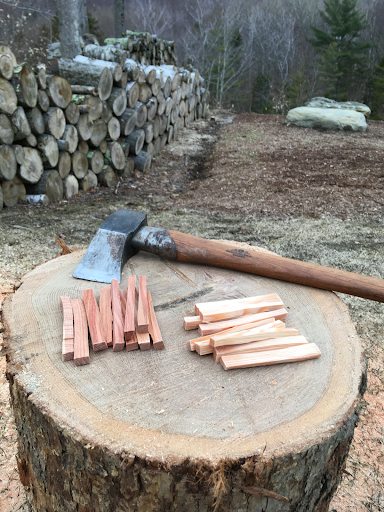 Split Spirits pairs wood with grains grown in the same region to create truly single origin spirits that reflect a sense of place.
Will enjoys being involved in nearly every aspect — from splitting the wood and visiting farmers, to distilling and speaking with retailers and customers. He also manages two staff and collaborates with two business partners that own the distillery. "Each plays a different role and brings a unique perspective to the table." He feels having a team adds vitality and accountability to the undertaking, but managing people takes more time than he expected. "But the investment is worth it, because the team is what allows you to scale up and achieve far beyond what I could do on my own!"
Will's dream was fairly modest: "To see my bottle on the shelf of a hip Brooklyn wine shop." He's achieved this goal and much more, selling Split Spirits via retailers, farmers' markets, their Vermont headquarters tasting room, and online shop. Initially, COVID-19 restrictions presented unique challenges as his small bottle tends to sit near store registers where it's a conversation starter. The pandemic forced them to adjust sales forecasts and find some fun ways to adapt and flourish. Recently, the staff gathered at the distillery to make cocktail videos to be shared on social media to educate shop owners and staff. Each took turns DJ-ing, filming, directing, and, of course, tasting.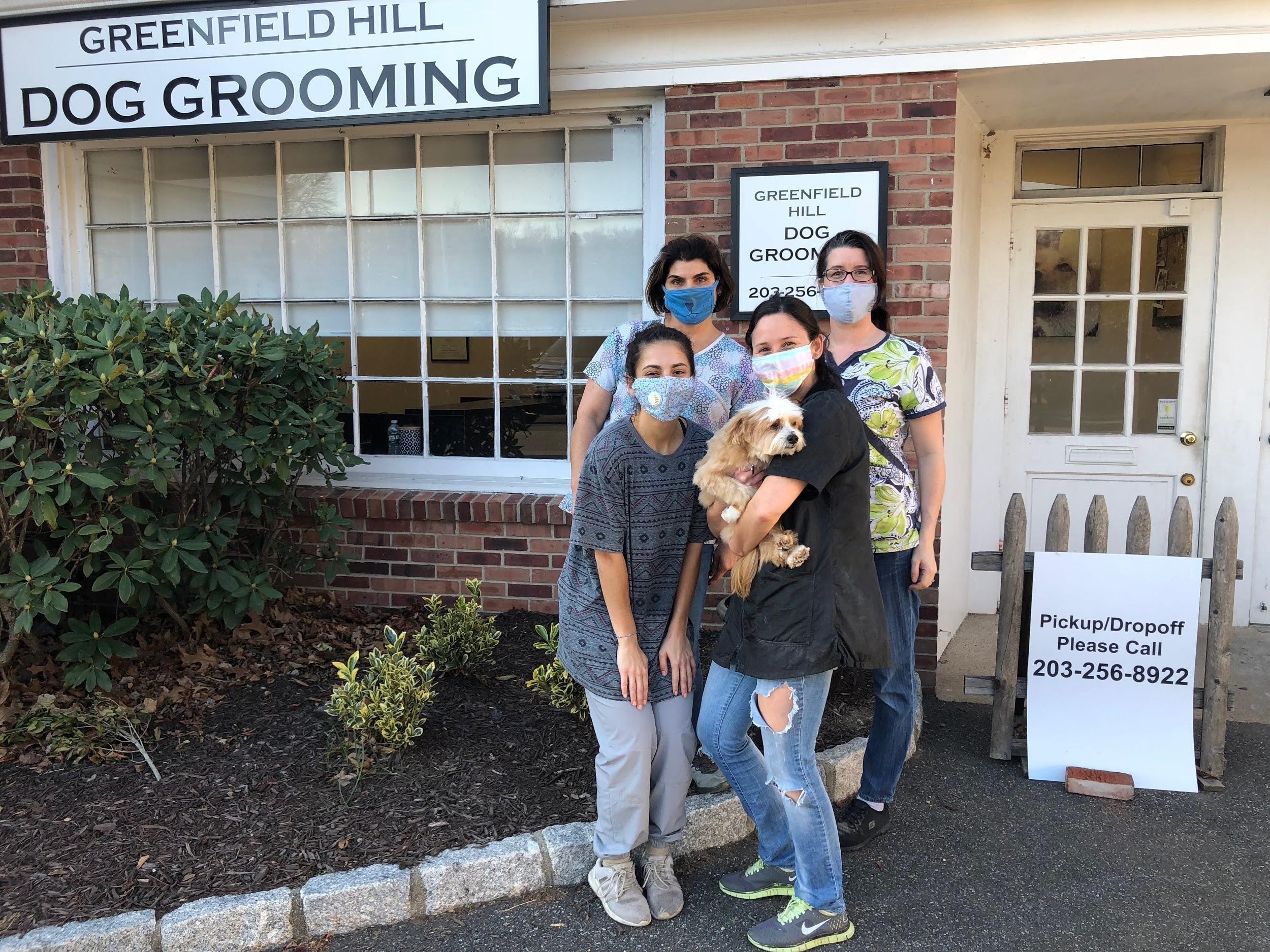 "My love of animals makes every day at work a joy." Christine Stone, Owner, Greenfield Hill Dog Grooming
When you've been grooming dogs for over 20 years, like Chris Stone has been, you learn a few things... like which breeds like getting their nails clipped; very few, most just tolerate it! At her business, Greenfield Hill Dog Grooming, now in its 12th year in a charming cottage storefront in Fairfield, Connecticut, the staff has a running joke: "How many groomers does it take to clip the dog's nails?" Some have required 4 staffers to get nails done. "It's a workout!"
"Dog people are good people," Chris says. She's been most surprised by how passionate people are about their dogs. "They are truly beloved family members. We take better care of our dogs than ourselves sometimes." She enjoys coming to work every day: "I love the people I work with. I love the dogs and I love our clientele." Like most entrepreneurs, she got into this line of work in a roundabout way, after working many years in the business sector. "I wanted to learn how to shear my sheep, so I asked a local groomer to teach me and I ended up loving it and here I am today." After gaining enough experience and confidence in her abilities, she started the shop with a friend who has since moved on to start a family.
"I try to make man's best friend look and smell their best." Chris feels incredibly fortunate to have remained open throughout the pandemic (dogs will be dogs!), switching to curbside pickup and drop-off to keep staff and clients safe and healthy. Chris and her team groom between 20 to 30 dogs a day. Labs, Beagles, and short-haired dogs get a bath, nail trim, ear cleaning, and drying/deshedding. Doodle, Poodles and the like require a haircut that can take from 1 to 2 hours. From a 3lb toy poodle that fits in their hands, to 150lb Newfoundlands and St. Bernards, they can handle any pooch. Most client grooming requests are pretty standard, though one owner requested they make their dog look "sexy," while another dog mom asked them to copy the look of a stuffed animal... not even the same breed as her dog.
All of her employees have been with Greenfield Hill Dog Grooming for a long time. One of her biggest challenges is finding good, qualified, and talented groomers. "It is an undervalued field and groomers are always in need." She tries her best to set a good example and work as hard as they do. "Without them, there would be no Greenfield Hill Dog Grooming."

And that would be ruff for all her dog fans.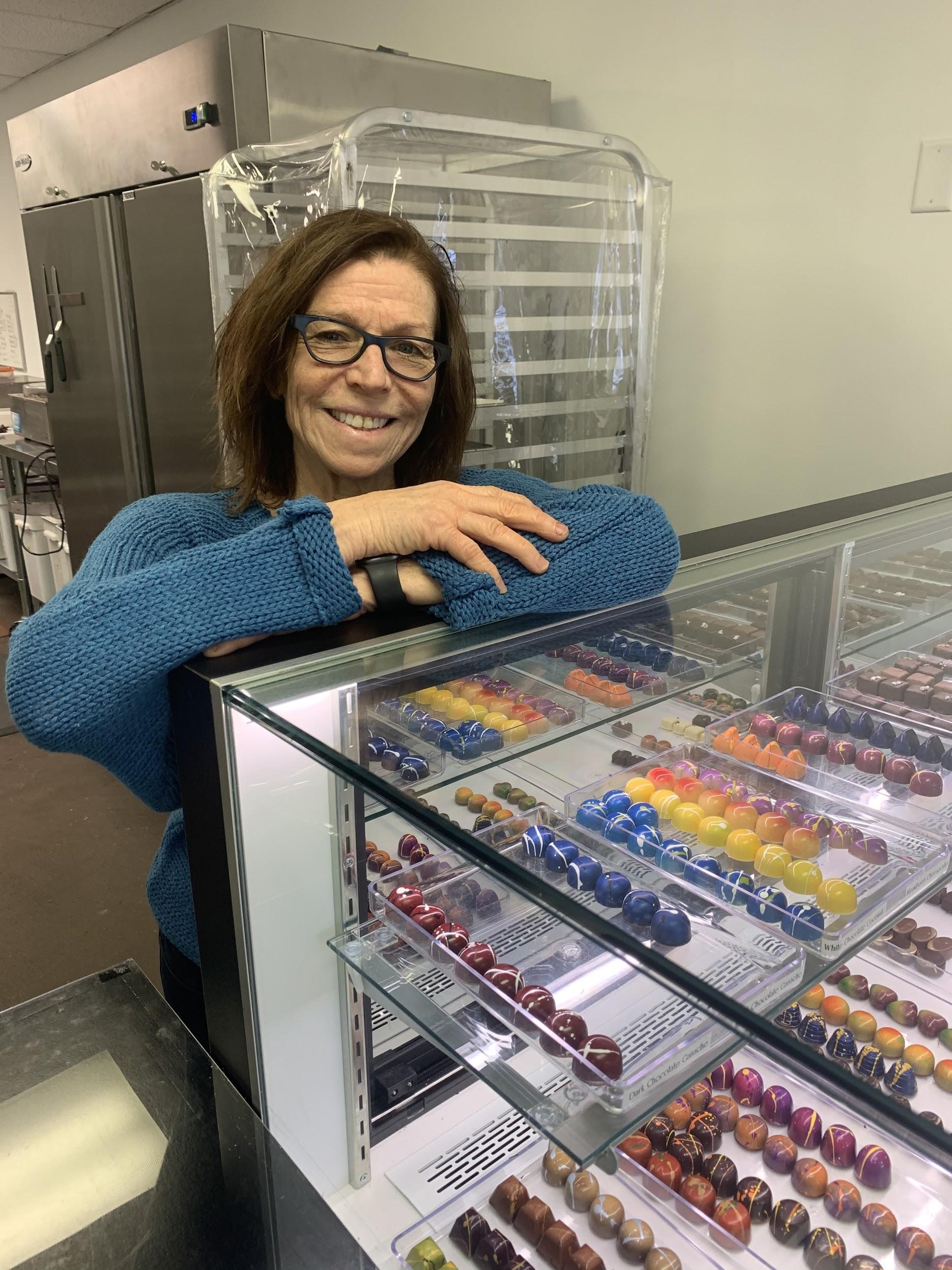 If you love what you do, you'll never actually "work". Rose Keville, President, Keville Handcrafted Chocolates
Blueberry Lemon Thyme Chocolate. Peach Basil Bonbons. Blueberry Buttercrunch. These are just some of the mouthwatering confections Rose Keville whips up in her shop, Keville Handcrafted Chocolates. As a small artisan chocolate manufacturer creating incredibly unique and delicious bonbons, caramels, and buttercrunch, Rose says, "I get to use my creativity and make people happy."

She first started making chocolates for her parents, then friends, and bringing them to brokers and clients of her risk management consulting firm in New York City. When people started asking to buy them, she decided to start a second business. In the beginning, she was just making caramels. "Dad loved them. Mom is my number one buttercrunch fan!" But when her dad came down with Alzheimer's, buttercrunch was too hard and caramels eventually too much. Luckily, a fellow chef gave her a basic lesson on making bonbons. "Once I started, I became obsessed. And the bonbons melt in your mouth, so dad could eat them."
A turning point came when a client in Texas asked if she could handle her long holiday list for friends and clients. "The trust she put in me gave me the encouragement I needed to move from renting space in a shared kitchen to building out a manufacturing facility of my own." With her own retail space, she was excited to bring jobs to the area she grew up in and help people who needed to work. Covid-19 had other plans. She had a soft opening a month before the coronavirus shut everything down. But with her other business doing well, she hired her first employee and used the downtime to create new confections, launch a social media presence, and redesign the kitchen to be more efficient.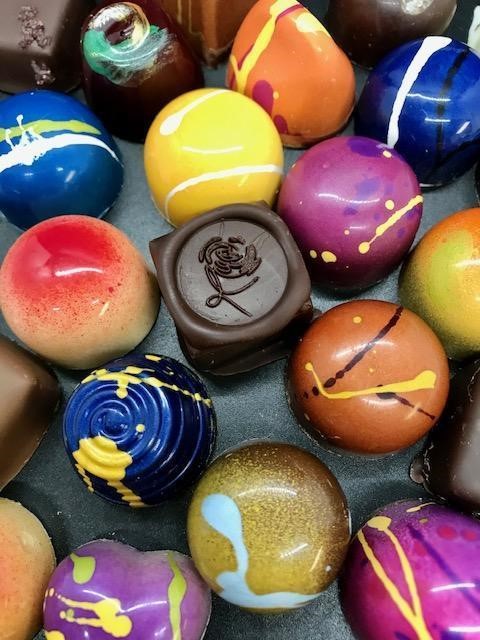 When it comes to new flavors, Rose says, "There is almost nothing we can't put in a chocolate."
Rose is always thinking of new flavors and pairings. The wildest one so far has been strawberry basil with strawberry balsamic "pearls"; the most popular white chocolates are lemon with lemon curd and strawberry cheesecake. She's also created chocolates spiked with Hillrock Bourbon and Jameson Whisky. Unsurprisingly, she's never at a loss for taste testers. "Some either 'love' everything because they don't want to hurt our feelings or have suggestions on how to 'fix' everything because they want to help."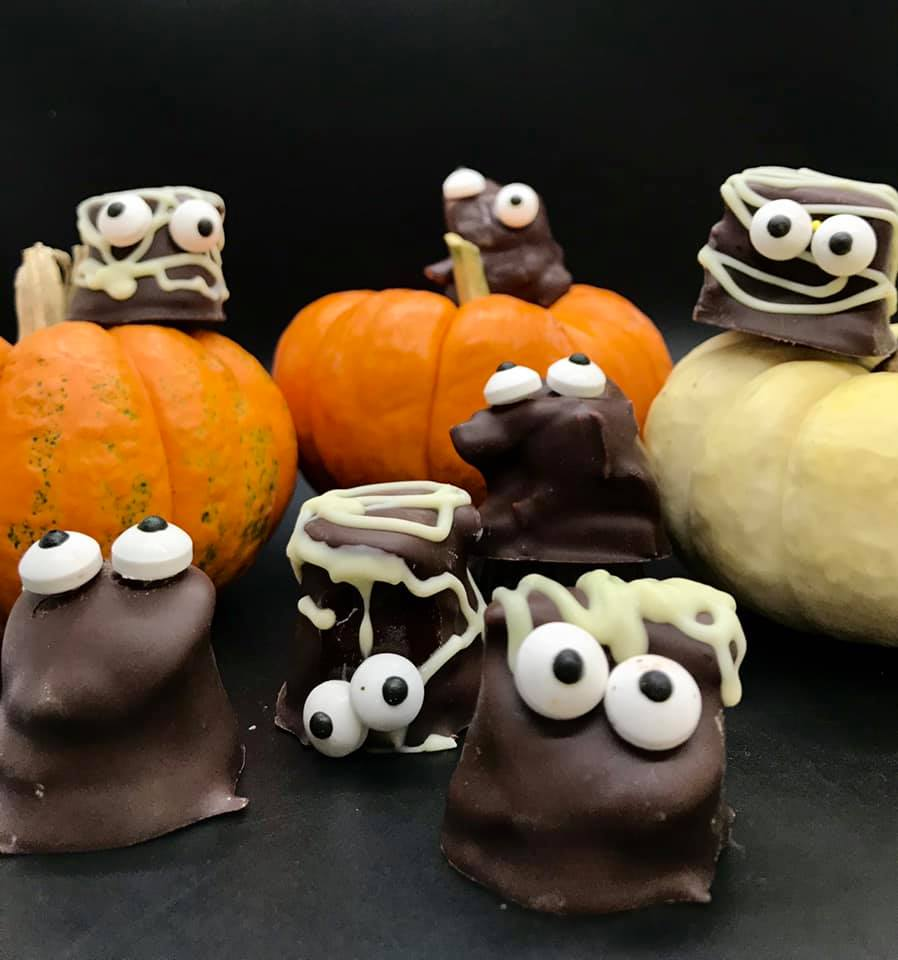 Last fall, Rose hosted a safe trick or treating in her shop, packing up marshmallow goblins and chocolate bonbons for the kids.
Rose has been greatly inspired by her father, an artisan cabinet maker in Ireland and a carpenter when he came here, who took great pride in his work. She encourages her two part-time staffers to think of the store as "our" shop so they will feel the same. "They see I work very hard, but also that I love both jobs." She truly values the connections she's made, especially with locally women-run businesses who thrive on helping each other. "I am so thankful for the strong women in my life, from my mom (who never stops believing I can accomplish anything) to the young women who work in my shop." Their support allows her to run her other business and pay the bills "while I continue to follow my chocolate dream…"

A very good thing for anyone with a sweet tooth.
Business owners listed above are not customers of Bank of Hope but were solely interviewed for the purpose of this content.
Meg Schutte is a Bank of Hope Blog contributor.
The views and opinions expressed in this article do not necessarily represent the views and opinions of Bank of Hope.
More Hope Stories
Tips for Estimating a House's Worth in 5 or 10 Years

Tips for Estimating a House's Worth in 5 or 10 Years

6 Ways to Take Care of Your Family Financially

6 Ways to Take Care of Your Family Financially

How Often Should You Monitor Your Bank Account

How Often Should You Monitor Your Bank Account
Tips for Estimating a House's Worth in 5 or 10 Years

Tips for Estimating a House's Worth in 5 or 10 Years

6 Ways to Take Care of Your Family Financially

6 Ways to Take Care of Your Family Financially

How Often Should You Monitor Your Bank Account

How Often Should You Monitor Your Bank Account