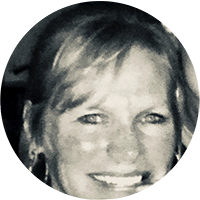 Meg Schutte
Nov 19, 2021
Now that winter is about to make its entrance, bringing a singular beauty and a whole new way of living, there are things you can do to enjoy the changes more without spending more. Here are some tips to get through the colder and shorter days and pocket some savings in the process.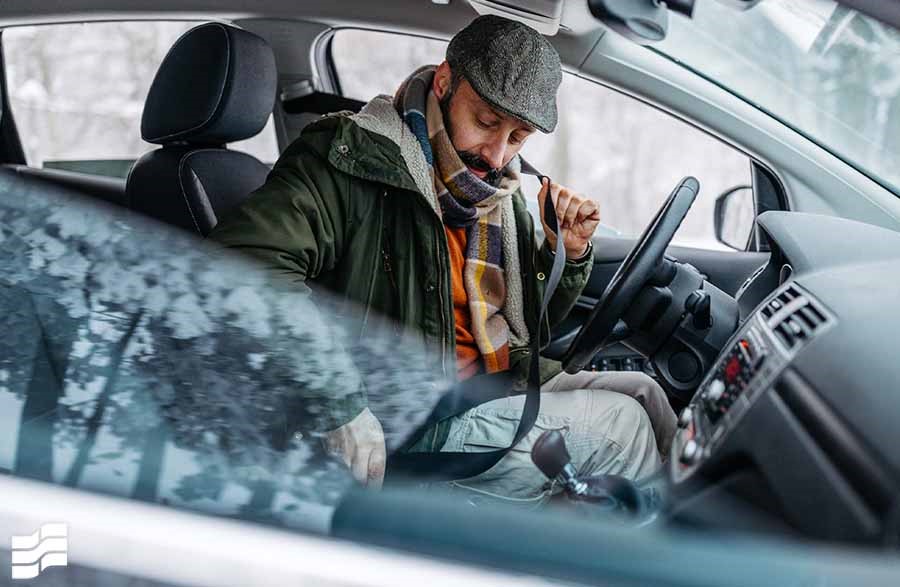 Winterize your ride
While there's plenty to love about the winter season, there's a lot that's tough on your car. Snow, ice, blizzards, and salt on the road can all do a number. All fall, gas prices have been rising steadily and will probably continue. Get your car in tip-top shape to save on gas and avoid costly repairs.
Refresh and/or top off everything under the hood: all fluids, oil/oil filter, antifreeze, rubber hoses, and belts.

Some cars require different oil during colder months. Check with your mechanic or the car's manual.

Pop in new windshield wipers.
Restock your emergency kit and don't forget extra blankets.
For better gas mileage (and less fill-ups), check the brakes and inflate your tires – air pressure can dip due to the cold.
Turning up the heat, even your seat heaters, raises the electrical load and burns more
Keep your driveway free of dangerous ice. Haul out the shovels and clear it yourself or get the kids in on the exercise. You can skip the gym for the day and also save on paying someone to snowplow or using a snow blowing machine – which is more than happy to eat up your gas.
Make a concerted effort to consolidate trips and errands and carpool when you can.
Save the grill from the chill
When the warm weather comes back, you'll want to be ready to get back outside cooking and entertaining. To preserve your grill, be sure to protect it from the elements.
Give it a good clean inside out, including removing all the ashes which can collect moisture and cause rusting.
Bleed leftover gas from the tubes and store the propane tank safely on its own.
Safeguard the grill with a sturdy cover and move it into the garage, basement or a dry outdoor spot. Best not to expose the flexible tubing to the cold.


Beat the draft
The upside of all the leaves coming down is all that abundant sunshine coming in. But wind and cold make their way in, too. A little effort will go a long way in helping you to not waste your heat or your dollars.
Inspect your home top to bottom for any areas (windows, doors, etc.) where heat might escape and cold winds can come in.

Check with your local utility about a free energy audit of your house.

Plug up the holes and leaks with caulking, weather stripping, spray foam, or shrink wrap to insulate everything nice and tight.
Open curtains during the day to collect the sun's rays and close them at night to trap in the warmth.
Lay a draft stopper at every threshold that catches a breeze.
Throw another log on
The pandemic found a lot of people purchasing outdoor fire pits, propane fireplaces, and patio heaters. These are all great for ambiance, warmth and entertainment, but there's nothing better than a roaring fire indoors – allowing you to lower the thermostat a few less costly degrees.
Make sure to have chimneys professionally cleaned and inspected every few years, or more frequently if yours get a big chill workout.
When you're not having a fire, close the doors if you have them, or just the damper to keep cold air from funneling down the chimney and your heat racing back out it.
Save on winter fuel costs with a professional furnace cleaning and tune-up – and the sooner the better!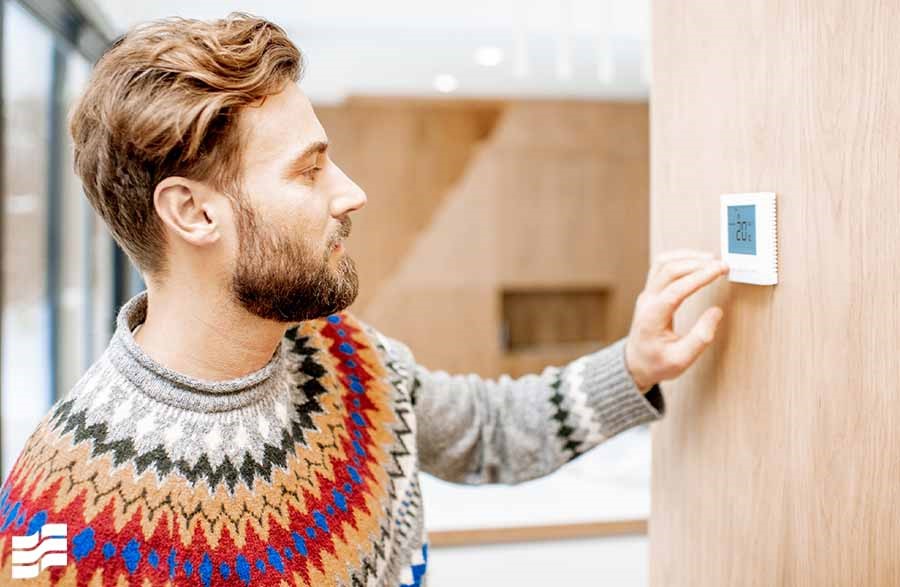 Wrap up the savings
Why heat the house when you're away, at work, or at night when you're asleep? Plenty of smart-saving ways to stay warm.
Layer up with heavier clothes and blankets, especially heated ones.
Cozy up just the bathroom, bedroom or office with a space heater.
By turning down your thermostat 7 to 10 degrees lower than normal for 8 hours a day, you could cut your electric bill by 10%.
Even better, get a programmable WIFI thermostat that allows you to schedule when the heat goes on and off and at what temperature.

Manage easily and conveniently right from your smartphone.
Install it yourself for even more savings!
Light the way... for less!
The starkness and beauty of the season is definitely photo-worthy. But shorter days and November's turning back the clock means more bulbs will be burning longer for higher electrical bills.
Help your wallet and the environment by switching to high-efficiency LED lights throughout your home. While initially more costly, you'll save in the long run as they last about 10 years, give off less heat, and use 75-80% less energy.
Whenever you leave a room, turn everything off.
Save energy and costs by putting TVs, cable boxes, and other electronics on a power strip to turn on or off all at once.
With all the holiday and New Year's celebrations, don't forget that those twinkling lights indoors and out are spiking your bill, too.


Curl up with a good movie... or two or three.
Wintertime calls for lots of cozy movie nights on the couch. With all the amazing content online these days, it's easy to get "stream happy." Might be time to cut back.
Make sure you're using all the services you're paying for or reduce to 1 or 2.
Must-see show on your list? Binge watch it for a month and then cancel.
Sign up for FREE trials then opt out.
Pause or cancel your service when you travel or just for a financial and commercial break.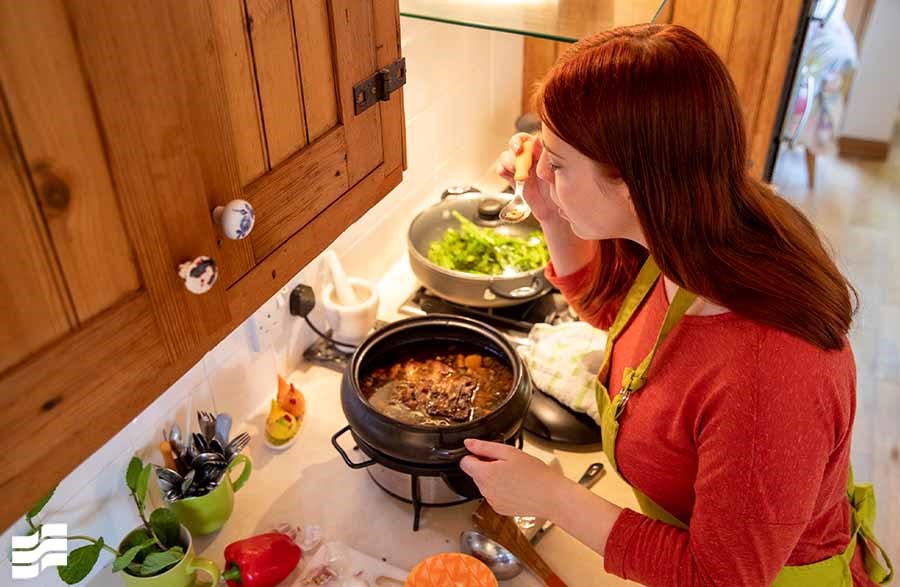 Serve up some comfort food
The slower months of winter are perfect for making soups, casseroles, breads, and stews. And nothing says "home" like the mouth-watering aromas only a slow cooker can cook up. Make the most of your weekly budget.
Buy ingredients in bulk for more reasonable prices.
Cutdown meal prep by doubling-up recipes, and freeze individual portions for those nights you don't feel like cooking (and help avoid pricey, last minute ordering in.)
Slow cookers are low on electricity and high on delivering easy-to-prepare meals.

Great way to tenderize cheaper cuts of meat.

While super handy, ovens eat up a lot of electricity, so maximize your time and space by multi-cooking – roasts, breads, muffins, vegetables, whatever you can use for another day.
Fill up your fridge and freezer for less and reduce gas guzzling trips to the grocery store.
Meg Schutte is a Bank of Hope Blog contributor.
The views and opinions expressed in this article do not necessarily represent the views and opinions of Bank of Hope.
More Hope Stories
Getting a New Mortgage

Getting a New Home Mortgage Before Selling Your Old House

Getting Loans for Rental Property Business

Getting the Right Loan for Your Rental Property Business

Clever Ways to Make Extra Cash

Learn different ways to make extra money!
Getting a New Mortgage

Getting a New Home Mortgage Before Selling Your Old House

Getting Loans for Rental Property Business

Getting the Right Loan for Your Rental Property Business

Clever Ways to Make Extra Cash

Learn different ways to make extra money!